For the very first time, surgery teams of the National Cancer hospital and the National Maternity Hospital in Hanoi have conducted an operation on fourth-stage cancer woman who sat when giving birth by C-section, also known as cesarean delivery as her health condition is so weak.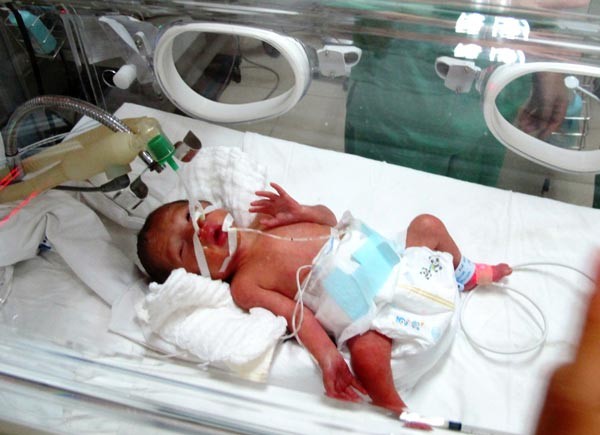 Tram's baby (Photo: SGGP)
Deputy Head of Cancer Hospital Dr. Tran Van Thuan said that the surgeons of two hospital liaising closely to carry out the operation on July 10 in the Cancer Hospital. 25 year old patient Dau Thi Huyen Tram from Ha Tinh Town of the central province of Ha Tinh has the first baby of her own.
Her mother Le Thi Lan said that when her pregnancy was 11 weeks, Tram had a gland in the neck yet local medical clinic could not detect her illness. Until 14th and 15th pregnancy, she was diagnosed to have adenomatous goiter.

Later, when her illness became worse and at her 19th pregnancy, she decided to go to Cancer Hospital in Hanoi for further examination where doctors told her to have lung cancer at last stage and the disease has spread to the liver. At the time, Tram coughed blood and had breathing problem.

For effective treatment, doctors tried to advise her to have abortion yet Tram refused abortion to keep her first baby despite pain she endured
.
Respecting her determination to keep the baby, doctors thought of best ways to treat her. Time flies, Tram clench her teeth and endured a pain. During that time, she refused treatment which influenced her baby. Accordingly, doctors had no choice but gave her tonic medication and nutritional supplements to help her and her baby.

However, at her pregnancy of 29 weeks, her illness became serious; she not only suffered pain but she had severe breathing problem; hence, surgeons decided to perform cesarean operation to protect the mother and her baby.

A 20-strong surgeon team of the National Cancer Hospital and the Nation Maternity Hospital were mobilized to carry out the complicated surgery. Though the operation lasted 30 minute, medical workers are nervous. Dr. Nguyen Lien Phuong said that this is the very first time she conducted a C-section operation when the mother was so weak to lie down

Finally, the baby was born. He weighed 1.2 kilogram and he was soon taken to the National Maternity Hospital for special treatment

The doctors said Tram will receive intensive treatment at the Cancer Hospital until she recovered.