The performance-based financing (PBF) model in the health sector helped improve providers' health services during a trial run, experts said at a conference which ended yesterday in Ha Noi.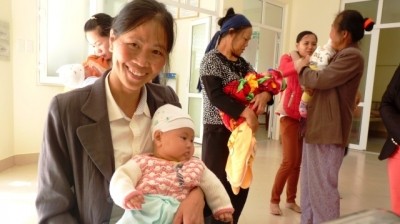 The performance-based financing (PBF) model in the health sector helped improve providers' health services during a trial run. — Photo nhandan.com.vn
The two-day conference, titled "Performance-based financing in health: sharing regional experiences in Southeast Asia," was held under a project that supports health care for low-income families in Cao Bang and Bac Kan provinces. It's often called project VIE/ 027, financed with official development assistance from the Government of the Grand Duchy of Luxembourg.
Conference attendees shared their experiences implementing the PBF model in Viet Nam and neighbouring Southeast Asian countries.
Performance-based financing is a mechanism by which health providers are funded according to how well they perform, says the WHO's website. As health facilities are remunerated in line with their output, they have strong incentives to satisfy users. Granted more autonomy in exchange for greater accountability, health facilities can tailor initiatives to the populations they serve, according to the WHO.
In the last two to three years, two PBF pilot initiatives have been conducted in Viet Nam. Result-based financing (RBF) has been used in the central province of Nghe An with support from the World Bank since May 2013. And PBF model has been implemented in Cao Bang and Bac Kan provinces with support from the Luxembourg Agency for Development Co-operation (LuxDev) since April 2014.
During the conference, international and domestic representatives shared their experiences and lessons learned about PBF implementation, data verification, monitoring progress and impact evaluation, and held round tables on the future sustainability of the PBF mechanism.
Be Thi Bach, deputy director of the project management board in Cao Bang Province, said the PBF model helped improve the effectiveness of preventive medicine and management of non-infectious diseases at communes' medical stations.
Hoang Van Hao, deputy director of the Nghe An Department of Health, said that thanks to the RBF model, health checks and treatment improved incredibly.
Medicines were kept in good condition, waste treatment improved and medical documents were managed more effectively, he said. But the RBF model still lacked supervision.
Hao said that the next time more medical workers from the provincial Department of Health would be assigned to supervise the model implementation to uphold its results.