June 24 was the first day in two months that no new case of bird flu had been reported in Viet Nam, the Veterinary Department announced.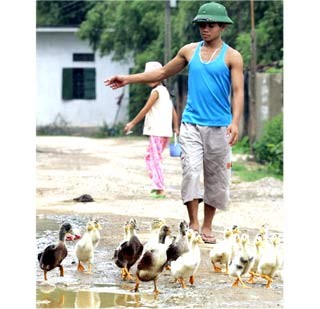 Since June 24, no new case of bird flu has been reported ( Photo:AFP)
The minimum period required for an affected locality to be declared free of avian influenza is 21 days.
As of June 24, three provinces have been so declared - Quang Ninh and Dong Thap have reported no fresh outbreaks for 24 days, and Bac Ninh for 22 days.
Four more provinces are approaching this 21-day milestone: Phu Tho, 20 days; Nam Dinh, 19 days; and Hung Yen and Ha Nam, 18 days.
Others are still in the danger zone, namely Nghe An, Son La, Hai Phong, Bac Giang, Can Tho, Ninh Binh, Vinh Phuc, Quang Nam, Thai Binh, Ha Tinh and Cao Bang.
Since the beginning of May, bird flu has been found in 18 provinces and cities. Five people have contracted the H5N1 virus, and two of them have died.