A distance ophthalmologic consultation centre was officially opened by the Central Eye Hospital on July 18.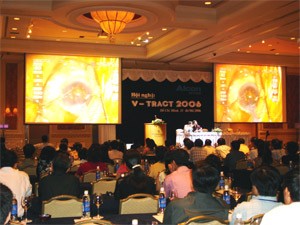 A live program of eye surgery is carried out by HCMC Eye Hospital ( Photo:U.P)
The center, the first of its kind in Viet Nam, worth nearly VND one billion sponsored by ORBIS is part of an ORBIS-funded project aiming to improve the professionalism of eye doctors.
The center, including an operating ward and a distance consultation room, is equipped with modern equipment and a high-speed Internet system.
On the opening day of the Distance Ophthalmologic Center, ORBIS International, said that it will send its Flying Eye Hospital to the central province of Da Nang, Viet Nam, in early October, 2006.

The Flying Eye Hospital is well-equipped with surgery and testing rooms and a 50-seat consultation room. This unique aircraft hospital is flown all over the world in order to conduct operations for the poor blind and train local ophthalmologists.