The first session of the 'International Symposium on Neonatal Care' is being organized today in the central city of Da Nang by Vina Capital Foundation (VCF) and United International Pharma Company Ltd.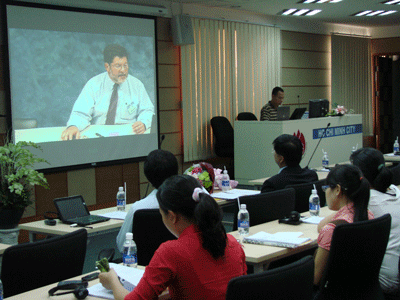 The 'International Symposium on Neonatal Care' being organized in Ho Chi Minh City (Photo: Thanh Binh)
That is part of Vina Capital Foundation's program 'Survive to Thrive' that is working towards reducing infant mortality in central Vietnam. 'Survive to Thrive' is constructing and equipping the new Neonatal Intensive Care Unit at the Woman and Child Hospital in Da Nang City as well as training doctors and nurses in the central region under international health care standards. 
This first session of the symposium will focus on the following topics, critical to the survival of a baby: Neonatal Resuscitation; Seizures in Neonatal Intensive Care Unit; Adaptation after Birth and How to Identify Prenatal Risk Factors; and Case Presentation on Seizures.
The lead lecturer is world-renowned neonatologist, Dr. Steven Ringer of Harvard Medical School and head of Newborn Medicine at Brigham and Women's Hospital in Boston, Massachusetts. 
Other presenters include Dr. Khu Thi Khanh Dung, vice-director and head of the Neonatal Department at National Hospital of Pediatrics in Hanoi and Dr. Truong Thi Nhu Huyen, head of the Neonatal Department at Woman and Child Hospital in Da Nang City.
VCF has partnered with the Global Development Learning Network of the World Bank for videoconferencing the interactive session to doctors in developing countries. 
This first neonatal symposium will include an interactive broadcast to doctors in the following locations: Can Tho, Da Nang, Hue, Ho Chi Minh City, Hanoi in Vietnam; and Manila in the Philippines. 
The session will also be available on worldwide live webcast so that any doctor around the world can log in and join in the lectures.  After each presentation, participants can interact with Dr. Ringer and Dr. Dung and ask questions.  The session will be recorded for DVDs and later distributed to all participants along with reference binders of the session topics.    
Reducing infant mortality, a Millennium Development Goal, is a priority for Vietnam and imperative to maternal health and infant mortality, which is also a key element of the national health strategy. 
The development of the Department of Pediatrics at the new Woman and Child Hospital is central to Da Nang's strategy to reduce infant mortality in the region.
The critical area for improvement is neonatal care, which requires highly-trained and specialized doctors and nurses, a controlled environment suitable for critically ill babies and appropriate but expensive equipment.