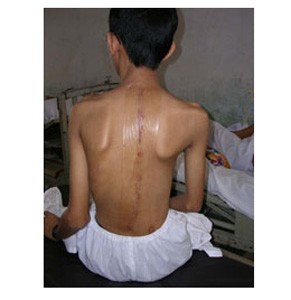 View of a boy with spina bifida.
Tran Van Tuyen, 13, born with spina bifida (bent backbone), was given an orthopedic surgery at the Central Children's Hospital yesterday, free of charge.
It is the first operation of its kind for children with spina bifida in Viet Nam.
Dr. Samany from France teamed up with Dr. Nguyen Ngoc Hung, head of the children's orthopedic surgeries, and other doctors in the hospital conducted the operation.
According to Dr. Hung, there have been only orthopedic surgeries for adult spina bifida patients so far.
The Central Children's Hospital is performing an orthopedic operation on another child today.