A prolapsed intervertebral disc operation at Ha Noi-based Viet Duc Hospital, the first operation of its kind in Viet Nam, was a success, the hospital announced. The hospital plans to carry out four more such surgeries.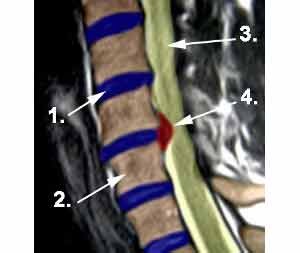 Picture MRT lumbal vertebral column display prolapsed intervertebral disc at 4( Photo: www.my-opis.com)
Dinh Van H., 40, from the northern province of Ha Nam, underwent the operation Wednesday.
The discs were treated surgically by removing of the displaced disc matter or a part of the bulging disc, said Dr. Nguyen Van Thach, the hospital deputy director.
This is the first time Vietnamese doctors have used this technique. It takes only 15-20 minutes. Doctors give local anesthetic to patients who are conscious throughout the surgery.
Surgeons focus non-invasive ultrasound on the disc instead of surgery to avoid bleeding. Patients will be discharged from hospital after the surgery.
A patient pays around VND10 million (US$600). The hospital recommends that the Ministry of Health allow patients to use their insurance cards to offset this expense, Dr. Thach added.