A corneal lamellar keratoplasty using an artificial anterior chamber and automatic microkeratome was performed for the first time at the Eye Hospital of Ho Chi Minh City on May 8th 2007, said Dr. Tran Thi Phuong Thu, the hospital's director.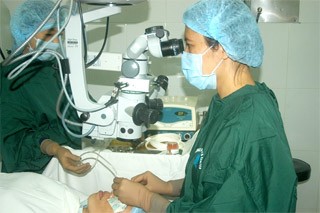 Doctors carry out cornea surgery at the Eye Hospital( Photo: N.T)
This method is for patients with superficial corneal opacities. A lamellar graft preserves the patient's corneal endothelium, thereby reducing the chance of a donor tissue rejection.
The accuracy of the surgery has been enhanced with the use of artificial anterior chambers and automatic keratomes, thus increasing the chances of restoring vision.
In other happy news for patients, the Georgia Eye Bank promises to give four corneas for free of charge per month to help Vietnamese patients.
Over the past two weeks, four patients have received corneal transplants. Federal Express shipment fees will be borne by Doctor Richard Lanning from Philadelphia, United States.
Doctor Lanning has been supporting the development of vitreo retinal surgery at the Eye Hospital of Ho Chi Minh City in the past few years.
Each cornea graft surgery costs VND2 million (around US$130).