For the first time in Viet Nam, a 63-year-old man from the Mekong delta province of Kien Giang has been treated for brain infarction.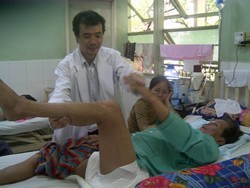 Doctor and brain infarction patient do some exercise after surgery
Dr. Tran Chi Cuong of Ho Chi Minh City Medicine Hospital says the patient had experienced fluctuating blood pressure, breathlessness, headaches and dizziness for three months, and had found it hard to move his limbs.

The situation worsened to the extent that half of his body became paralyzed. He was hospitalized and diagnosed with brain infarction.
The hospital's doctors decided to dilate a narrowed blood vessel in his brain by inserting a device called a stent.

Immediately the patient's condition improved, so much so that he could move his limbs again and no longer experienced the physical discomfort of the past few months.