Vinmec International Hospital received JCI accreditation for its international-standard quality on June 26.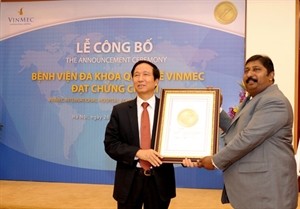 Dr. Prabhu Vinayagam (R), Managing Director of the JCI Asia-Pacific Office presented Vinmec the JCI accredited certification. (Photo: VNA)
This is the first hospital in Vietnam to be recognised as a JCI-accredited healthcare entity, joining 800 other facilities worldwide.
Vietnamese nationals spend billions of USD overseas every year on medical treatment due to limited domestic healthcare facilities and services, Deputy Health Minister Nguyen Thi Xuyen said, hailing the Vinmec's drive towards international-standard services.
The hospital scored 4.81 out of 5 in the 83-criteria hospital quality management standard issued by the Ministry of Health (MOT) last year, she added.
Dr. Prabhu Vinayagam, Managing Director of the JCI Asia-Pacific Office, said he believes Vinmec deserved the certification and that ensuring hospital quality and patient safety are the responsibility of each individual.
Founded in 1994, the Joint Commission International, or JCI, is a US-based group providing international healthcare accreditation services to hospitals around the world with the primary focus on improving the safety of patient care.
Its accreditation standards were established to encourage the highest international benchmarks for accredited organisations, comprising 285 standards and 1,160 measurable elements.
Vinmec plans to expand its network to 10 hospitals nationwide and establish a medical university by 2020.
Three other hospitals in Vietnam are also running for JCI accreditation.