The General Hospital in the southern province of Ba Ria-Vung Tau yesterday said that medical workers are providing intensive treatment to five people who ate poisonous puffer fish.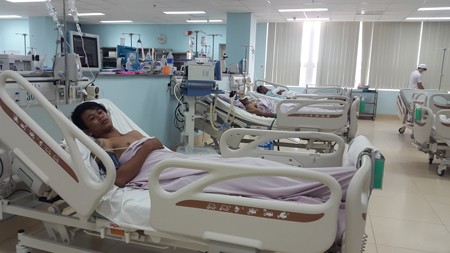 One of patients poisoned by eating puffer fish (Photo: SGGP)
Before, at the night of August 3, patients were hospitalized when they suffered the tingling in the tongue and giddiness and weakness of their limb. Among them,  46 year old Chau Soc Phol from the Mekong delta province of An Giang is the most serious as he fell unconsciousness and breathing problem.
Patients' relatives said that on August 3, while Phol and his 11 year old daughter bathed in Long Hai sea in Long Hai Town, they accidentally caught a big puffer fish; therefore, they brought it to home and cook for the dinner.
At 4 PM, Phol and his two children Chau Nhuol and Chau Bav and two nieces 16 year old Chau Thach and 8 year old Chau Rak ate dinner with puffer fish. Phol even ate the fish liver.
After two hours, Phol's children realized their father was giddy and suffered convulsion fits while the children and nieces had the tingling in the mouth and giddiness in the limbs. They all were taken to the hospital for emergency by neighbors. Doctors had to empty victims' stomach and transfused.
Puffer fish are the world's most toxic group of fish and their livers, ovaries and skin contain tetrodotoxin, 100 times more lethal than cyanide.