Dangerous additives, heavy metal, and unknown chemicals are increasingly being found in foodstuffs because of a shortage of skilled investigators and equipment to detect them, delegates said at an online conference on food hygiene held by the Ministry of Health in Hanoi on August 27.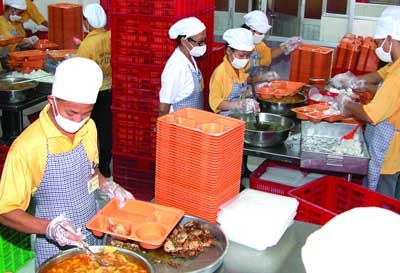 Workers at a HCMC-based catering company preparing meals for workers at industrial parks. Food hygiene is not being enforced in Vietnam because of a shortage of experts and equipment, experts agreed at a meeting held in Hanoi on August 27 ( photo: SGGP)
Local preventive health agencies only have the capability to do simple tests, Nguyen Thi Khanh Tram, deputy head of the Vietnam Food Administration, said.
Some cannot even detect pesticide residues, she said.
There are 12 centers carrying out checks of imported foodstuffs in Hanoi, Hai Phong, Da Nang, Ho Chi Minh City, and near international ports and border crossings.
Of them seven do not have the expertise to find antibiotic residues exceeding regulated levels, four cannot trace heavy metals, and five cannot find oxidants.
The head of the administration, Nguyen Cong Khan, admitted that a shortage of skilled investigators and modern devices stymied efforts to detect food contamination.
Only 22 per cent of personnel working at food testing centers are doctors and half are food technicians. The northern mountainous province of Lai Chau and the southern province of Binh Phuoc have people without university degrees in charge of testing food at centers.
Other delegates accused health inspectors of merely looking up information about products in documents or on their packaging rather than actually examining the products. Many do not know regulations thoroughly and overlook some violations, they said.
For instance, health workers in the northern province of Bac Ninh and the southern province of Tra Vinh presumed that bottled-water plants do not need certificates of food hygiene and safety and others initially ignored the presence of coliform and other pathogens in several brands of bottled water thinking these are not harmful to health.
Deputy Minister of Health Trinh Quan Huan said the lack of expertise in food hygiene testing could badly affect the health of an entire generation.
He ordered the immediate setting up of agencies to penalize violators at the provincial level and tighten supervision. The ministry will soon draft a food hygiene bill to submit to the National Assembly, he said.