As Tet (lunar New Year) approaches, health authorities in Ho Chi Minh City worry about companies violating food safety and hygiene regulations.
Health authorities in Ho Chi Minh City January 26 suspended two factories that produce pumpkin pies and water chestnut jam. Truong Tho at 28/13 Truong Phuoc Phan in Binh Tan district and Tan Hong Phat at 174/30 Thai Phien in district 11 were caught using industrial bleach to whiten jams.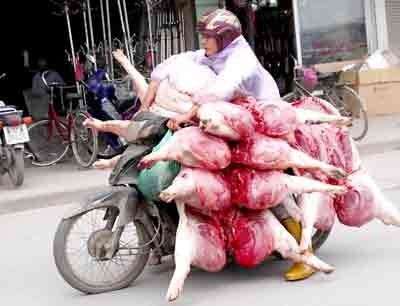 Fresh food failing to satisfy food safety and hygiene is public concern in these days when people buy food to prepare for Tet ( lunar new year)
Health inspectors also destroyed 1.4 tons of pumpkin pies and over 520 kilograms of pumpkin and water chestnut jam in both the above companies.
Restaurants and food catering companies are operating at full capacity to satisfy increasing customer demand during Tet. Many organizations and companies hold dinner parties to celebrate the end of the year (lunar New Year).
The rush to cope with this huge demand and reap profits leads to most food companies ignoring food safety and hygiene regulations.
During two days of inspections of processing units in the city, health authorities found ten out of 14 units were in breach of food safety regulations and were compelled to suspend three of them and fine the others.
Health authorities were very concerned about high consumption products like jams, Chinese sausage and pork pies as companies choose to ignore food safety regulations for products that have high sale value. Eight out of 17 samples of Chinese sausage and pork pies were found to contain borax, 2,893 eggs were declared unsafe and over 50 kilograms of spices had outdated expiry dates.
Relevant agencies have been asked to strengthen their supervision of imported red colored spices and additives and to seize and destroy any products with unclear manufacturing markings and labels.
Consumers are warned to be cautious of not just domestically made food products but also imported foods, as the market management board has confiscated containers of confectioneries, jams, monosodium glutamate and sugar with no manufactory markings. In some cases, crafty traders have even changed the packages with new expiry dates.
Le Truong Giang, deputy head of DOH has ordered medical clinics and preventative health units to remain vigil for cases of food poisoning.
However, the authorities are facing a serious challenge as they are short of personnel and markets are huge and widespread. The consumers must therefore maintain vigil and protect themselves and their families by purchasing foods that look authentic and bear reliable brand names.