Food safety and hygiene inspectors discovered a number of Ha Noi shops selling foodstuffs without a label stating the origin of the product and some that were past their expiry dates.
On June 23 and 24, inspectors found shops in Chau Long Market in the Ba Dinh District of Ha Noi selling Vietnamese foodstuffs without a printed origin and some foreign foodstuffs without the certificates of origin that are issued upon import into Viet Nam. A number of goods were also found to be past their expiry dates.
The inspectors confiscated illegal products and the Department of Health said that it would be investigating each case further.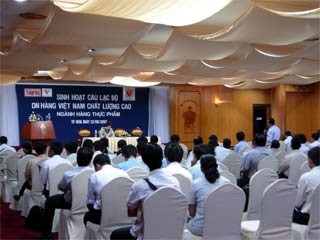 Foodstuff enterprises discuss food safety and hygiene at a meeting(Photo:T.Huy)
In related news, the Management Board of the High Quality Vietnamese Goods Club worked with foodstuff enterprises to discuss and raise awareness of food safety and hygiene.
Entrepreneurs agreed that clear information about a company's products and a pledge by each company must be printed in the media, promising consumers that each will maintain high levels of food safety and hygiene. The action will be carried out since July 2.
By doing so, consumers and relevant state agencies will act as watchdogs; if levels are found to be unsatisfactory and not in accordance with the pledge, then action will be taken.
Those enterprises not to release or delay launching information of their products and their public pledge will be named and shamed in the Saigon Tiep Thi Newspaper.