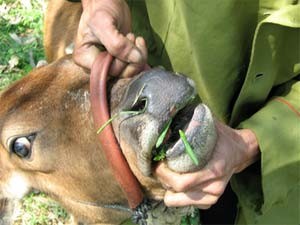 A cow with foot-and-mouth disease (Photo: Viet Bao)
An outbreak of foot-and-mouth disease has been discovered in the northern province of Thai Binh, making it the sixth province struck by the disease so far, the Department of Animal Health has reported.
The agency, under the Ministry of Agriculture and Rural Development, said yesterday that it had identified the disease in 24 buffalos and cows in Nam Binh, Vu Cong and Vu Binh communes in Kien Xuong district.
Until the outbreak in Thai Binh, the five provinces of Nghe An, Yen Bai, Thanh Hoa, Ha Tinh and Ninh Binh had the disease, the department said.
Foot-and-mouth has been found in 252 cattle over the last four months in these provinces, said the department.