This is an interview between SGGP reporter and Director Truong Van Viet, Director of Cho Ray hospital.
SGGP reporter: The new policy is controversial. What do the hospital management have in mind?
Dr. Truong Van Viet: The new policy concerns patients and doctors. For the aim of raising treatment quality, patients' feedback is important to us. Most of the feedback we've got so far at the hospital and through the media has been in support of the policy.
As for the inconvenience for patients in distant regions who must go to Cho Ray hospital just for treatment of minor diseases, we've advised them to go to other private surgeries of doctors from other hospitals.
Our policy comes from the expectation that doctors will concentrate more on taking care of patients in Cho Ray hospital, particularly the seriously ill. Further more, it requires doctors to finish their tasks, not their working shift in the hospital before they can go home. This is in line with the Government's guideline that by 2010 doctors at public hospitals are not allowed to open private surgeries.
In our meetings, doctors who had private surgeries were made aware of the policy of raising treatment quality. Above all, we have stopped verifying their employment status to complete the formalities for private office license for over one year but there have been only some individual reactions.
Over the last two days, 37 doctors have registered to work in at the hospital surgeries outside working hours. Currently the public have different opinions about the new policy while our doctors see that they do not have enough time to treat all patients well because the hospital may be overloaded.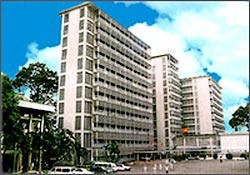 Cho Ray Hospital
The anxiety about the decision does exist. Do you think that if doctors are not allowed to open private surgeries, they will still do it without permission or they may leave for another hospital?
Doctors are worried that their income will be reduced considerably because some won't be able to
sell medicine or practice outside their areas of expertise, some may not be able to lure patients to their private offices, and others might lose chances of unethically prolonged treatment for profit. All of the above are wrongdoings.
The doctors who open private surgery without permission will sooner or later close it on realization of their wrongdoings. The hospital management considers it a chance to test if our doctors leave for another hospitals because of the above reasons. I felt sad to hear such words about Cho Ray doctors.
It's unimaginable to picture that patients from all 400 private surgeries of CR Hospital flock to the hospital for treatments?
Even SGGP newspaper just announced that there will be Cho Ray Hospital 2. In a few months, three branches of the hospital will be operated in Tan Binh, Binh Tan Districts and District 7. Moreover, there will be Cho Ray Hospital in Can Tho, Phu Yen, Tay Ninh, Gia Lai, even in Phnom Penh City.
In addition, private surgeries of Cho Ray doctors with good reputation will become sub-branches under the form of franchise. In the coming time, the franchising model will be applied for surgeries of doctors from other hospitals as well. In fact, the hospital has been investing in equipment for surgeries of retired doctors who have good reputation.
If you intend to cooperate with high quality surgeries of Cho Ray doctors, why do you not verify their status so that they can continue their services uninterupted?
We can't do lots of things at the same time. Treatment quality is top priority now. We will go on doing things in our development strategy for two aims of patients' welfare and Cho Ray's reputation, which has existed for years.
Related link:
- A decision in the interest of patients