A team of inspectors was formed yesterday to put higher Ho Chi Minh City Health Department officials under intense scrutiny for withholding information from the public on soy sauce containing high levels of the 3-MCPD carcinogen.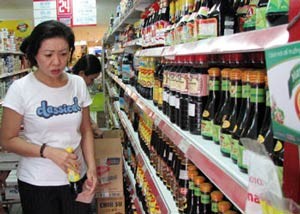 Consumers become more cautious after the toxic soy sauce incident

The department's Vice Director Le Truong Giang, former Director Nguyen The Dung and other staff are among those to be questioned.

The team estimates the case will be resolved in one month and take into consideration accusation of Mr. Dung and former HCMC Chief Health Inspector Nguyen Duc An against Vice Director Giang who is suspected of having accepted bribes and withholding the information.

According to Mr. An's statement, Giang was well-aware of the high levels of 3-MCPD but he hid the information from HCMC People's Committee standing Deputy Chairman Nguyen Thanh Tai and extended the submission deadline of the soy-sauce producers' reports on their products' 3-MCPD levels.

Notably, after the soy sauce scandal, Giang only received a warning from the HCMC People's Committee while An and Dung were dismissed from their posts and, because no Disciplinary Council was formed to consider An's case, he was thus denied any chance to speak in his own defense.

The investigation's scope will thus cover the department's dubious handling of the incident, aside from the incident itself and its causes.