Former U.S. President Bill Clinton, president of the Clinton Foundation, arrived in Ha Noi yesterday for a two-day visit, ending his tour of Asian countries affected by the Tsunami of 2004 as well as the visits he has made to HIV/AIDS initiative projects administered by his foundation.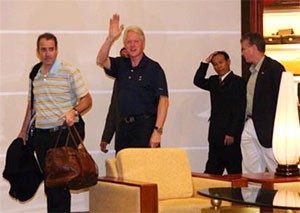 Former U.S. President Bill Clinton waves to reporters at Hilton hotel in Ha Noi yesterday
The major objective of his stay in Ha Noi is to sign an agreement with Health Minister Tran Thi Trung Chien related to the supply of medicines for the treatment and testing of some 1,200 Vietnamese children infected with HIV/AIDS.
 
The agreement will be in effect until the end of 2007.
The signing ceremony is scheduled to take place at the Presidential Palace this afternoon under the witness of President Nguyen Minh Triet.
Clinton also plans to hold round table talks with about 200 Vietnamese students and young people, some of whom are HIV/AIDS patients, about the youth's role in the fight against the 21st century disease and the importance of HIV/AIDS tests.
The Clinton Foundation HIV/AIDS Initiative (CHAI) established relations with the Vietnamese Ministry of Health in December 2005 with the intent of assisting Viet Nam in controlling HIV/AIDS.
The Foundation officially opened its Vietnamese offices for this project in July 2006.
In the past four months, the Clinton Foundation has supplied medicines for the treatment of about 500 Vietnamese children infected with HIV/AIDS and helped to train about 100 healthcare workers.