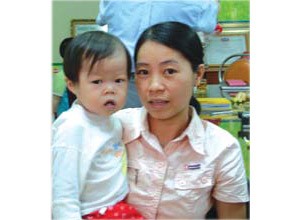 Truc Vy (L) will be sent to Korea for free heart surgery
The National Fund for Vietnamese Children together with the Sunny Korea Foundation, a non-governmental organization operating out of the Republic of Korea, will pay for four children with congenital heart defects to travel to Korea and receive heart surgery on January 18.
The charitable act is being carried out as part of the National Fund's "For the Children's Heart" program, which is co-sponsored by the Sunny Korea foundation.
The program will also cover transportation and accommodation costs for the children's parents.
Between 2002 and 2006, the Sunny Korea Foundation collaborated with the fund to help 47 Vietnamese children receive free heart surgery in the Republic of Korea.