The Ministry of Health yesterday asked Bach Mai hospitals in Ha Noi to sign pledge " Changing medical workers' behaviors for patients' satisfactions".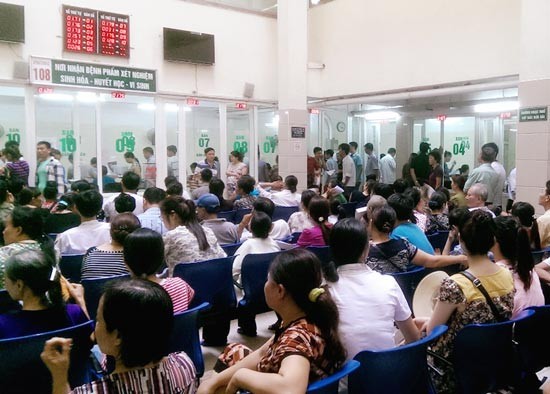 A throng of patients waiting to see doctor at bach Mai Hospital in Hanoi (Photo: SGGP)
Health Minister Nguyen Thi Kim Tien said that the basic ground of all professions, especially health profession, is professional ethic. Predecessor generations such as doctor Hai Thuong Lan Ong or doctor Le Huu Trach or Uncle Ho used to advise medical workers to be virtuous and devoted to patients and to the profession.
In reality, there have been many cases of medical workers who are not mind difficulties or danger to take care of patients. However, a part of medical workers have improper behaviors towards patients destroying the image of the sector and exemplary people.

Accordingly, the Health Minister asked hospital management boards to correct medical workers' conducts. Each doctors and nurses should be reminded of patients – consumers are always right for the development of the hospitals.
Having right behaviors are not only a must but also a pride of the sector. Hospital management boards must sign the pledge and they are asked to enhance supervision and issue timely penalties to those who have improper behaviors.
Four hospitals in the north Vietnam including Bach Mai, Viet Duc Friendship, National Cancer K and Central Pediatrics in Hanoi are the first four hospitals to sign the pledge in which they promised to change medical worekrs' behaviors for patients' satisfactions.