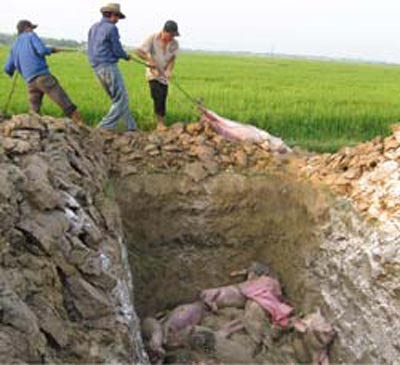 People bury dead blue-ear pigs (Photo: SGGP)
Four patients have contracted a bacterium called Streptococcus suis because they have eaten underdone diseased pigs, said a health official on April 28.
Dr. Nguyen Van Kinh of the National Institute of Infectious and Tropical Diseases said four people suffering from blue ear pig disease come from northern provinces where the disease is spreading at an alarming rate, sending the government scrambling to adopt counter-measures.
Of four patients, two were taken to the hospital in serious condition and had to use breathing machine, said Dr. Kinh, adding that people usually contracting a Streptococcus suis bacterium, a pathogen with serious economic effects on the pig industry worldwide, only when the blue ear disease attacks pigs in the region.
Dr. Kinh fretted as the hospital receives daily admission of 1-2 people contracting a bacterium called Streptococcus suis with the same symptoms. He warned people not to butcher and eat diseased pigs.
Infected patients have experienced nausea, fever, vomiting and bleeding under the skin. Just because such symptoms are like normal flu, patients often buy anti-flu drug to treat themselves at homes. They are hence taken to medical facilities late which sometimes could cost their lives.