The Ho Chi Minh City Department of Health reported 38 more swine flu cases on August 25, including four new outbreaks at schools.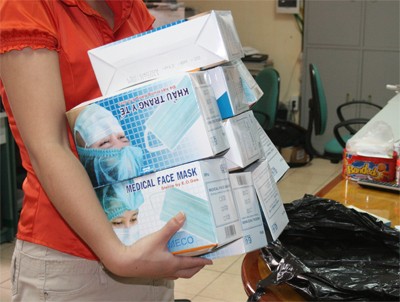 With a worried populace snapping up all the medical face masks it can for fear of swine flu, their prices  are going up steadily (Photo: H. Hai)
Its director, Dr. Nguyen Van Chau, said the city's tally has risen to 1,130, including one death.
The four affected schools are Tri Duc Private Boarding High School in Tan Phu District, Chu Van An and Phan Sao Nam in District 3, and Nguyen Du in District 1.
Medical workers continue to monitor five other outbreaks at Lam Son Junior  and College of Transport in District 6, Nguyen Khuyen Private Senior and Thanh Binh Senior in Tan Binh District, Cu Chinh Lan Junior  in Binh Thanh District.
On the same day inspectors from the Ministry of Health continued to supervise flu prevention activities at schools around the city.
The countrywide tally has gone up to 2,124 as 69 new cases were reported on August 25. This includes two fatalities.
The Hanoi Center for Preventive Health said four students at Thach Ban Junior School in Long Bien District tested positive for the virus, taking the number of infections at the school to 18.