East Meets West Foundation and its local partners on December 24 held opening ceremonies for four new rehabilitation centers in district general hospitals in the central province of Quang Ngai and the northern province of Thai Binh.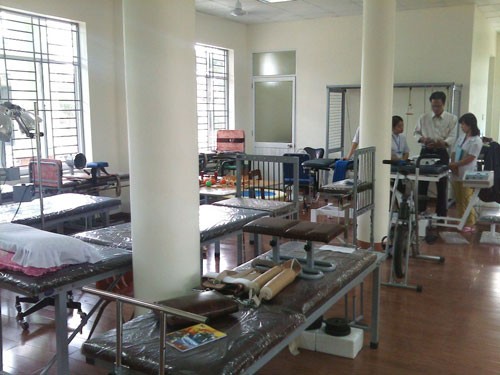 The renovated rehabilitation center at Dang Thuy Tram Hospital in Quang Ngai Province (Photo: Bao Chau)
The four centers have been renovated by East Meets West under its Support Network for People with Disabilities (SN-PWD) Program, which is supported by the Ford Foundation and other donors.
Located in Son Tinh and Duc Pho districts in the central province of Quang Ngai and Dong Hung and Tien Hai districts in the Hong Delta province of Thai Binh, the new centers were built to ensure high standards of care for people with disabilities.
Each center now has electricity, large practice rooms and modern physiotherapy and rehabilitation equipment, including stainless beds, laser and massage machines, wheelchairs and exercise tools. Center staff have also been trained in physiotherapy and rehabilitation techniques. The renovations of the four centers cost about US$315,000 (approximately VND5 billion).
The new rehabilitation centers, designed to increase the quality of healthcare services, are expected to treat more than 22,000 people with disabilities in the two provinces.
The renovation of rehabilitation centers is one of the key components of the SN-PWD program, which was launched in Quang Ngai in January 2007 and expanded to Thai Binh in September that year and to Da Nang in December this year. The program has benefited hundreds of people with disabilities in Vietnam so far.
The program is an initiative of East Meets West Foundation to help create channels of medical, educational and job training services for more than 30,000 people with disabilities in areas in Vietnam affected by dioxin, of which Quang Ngai, Thai Binh and Da Nang are among the most seriously affected.
To date, East Meets West's SN-PWD program has provided corrective surgery to more than 250 patients, delivered physiotherapy and prosthetics to more than 840 people with disabilities, organized vocational training and job placement for 100 beneficiaries and trained more than 500 health workers in physiotherapy and rehabilitation.
In addition, 300 children with disabilities have received educational assistance. The program also builds capacity for local authorities and small and medium enterprises with disabled employees. Currently, US$80,000 in loans has been given to six small and medium enterprises in Thai Binh Province.