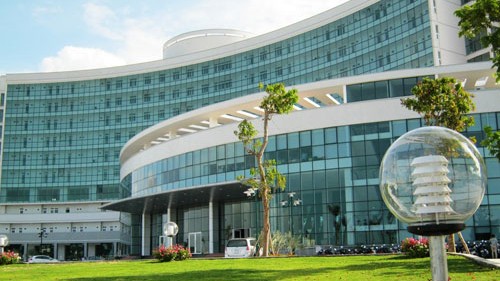 The cancer hospital in Da Nang
From January 15, cancer patients from the central regions who have been issued poor household certificates by local authorities will be exempt from all hospital fees for treatment at the newly constructed Cancer Hospital in Da Nang City in Central Vietnam.
The 500 bed cancer hospital is built over 15 hectares at a cost of VND1,300 billion (US$62.3 million), from contributions from benefactors, businesses, and non-government organizations.
Poor patients in Da Nang and the central province of Quang Nam will be exempt from hospital fees, which will be covered by Da Nang Health Insurance and Da Nang City Association for Poor Women and Children.
Besides, accompanying relatives of poor patients will be given free meals during their stay at the hospital.
Dr. Trinh Luong Tran, director of the hospital, said that later on other poor patients from across the country will also be given fee exemption.
The construction of the Cancer Hospital began in March 2009 and is now fully operational. Cancer patients from Central Vietnam can undergo treatment in Da Nang, instead of going to big hospitals in Hanoi or Ho Chi Minh City.