On 8 February, a group of 11 doctors of Ho Chi Minh City Eyes Hospital with needed equipment and medicine arrived in Laos for free eye operation for about 1,000 poor cataract patients in six different places, including two mountainous regions.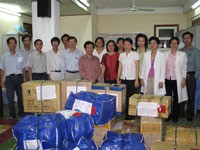 A group of doctors in their trip

During operation, they exchanged experience with their Lao partners. Expenditure for the trip was paid by Ho Chi Minh's Association in Support for Poor Patients and Viet Nam Rubber General Company.