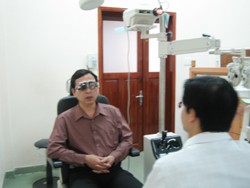 A patient conducts eye test at the Ho Chi Minh City Eye Hospital (Photo: VietnamNet)
Cho Ray Hospital announced on Tuesday it will give free refraction treatment with Laser Excimer technology to patients who have health insurance.
The hospital will consider supporting 30 to 50 percent of fees for poor patients who do not have the insurance cards.

Hospitalized patients are reminded to bring their cards with them from 7a.m to 4p.m on every Monday to Saturday.

Interested patients can directly contact the Refraction Consultancy Office or call 9.559.855 for more details.

The said-above treatment cost around VND11-12 million for two eyes.