The Ministry of Health, the Ministry of Education and Training, UNICEF and Hanoi People's Committee held a ceremony of launching immunization campaign for children aged one to fourteen in Junior High School Le Quy Don yesterday.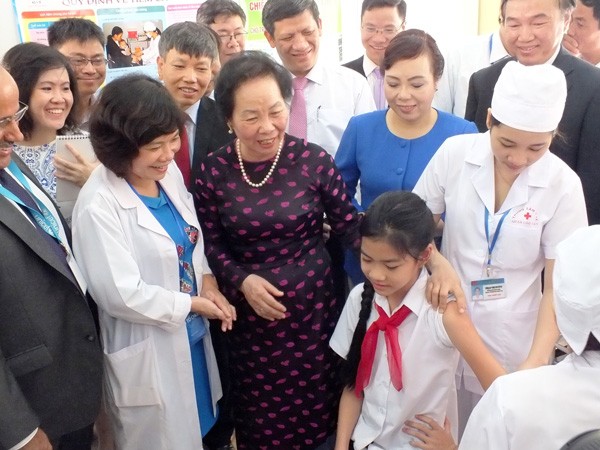 Vice President Nguyen Thi Doan at the launching ceremony of free-of-charge vaccination campaign in Hanoi yesterday (photo: SGGP)
At the ceremony, Vice State President Nguyen Thi Doan said that the campaign was useful for protecting and taking care of children – the hope of the nation's future.
In order to achieve success for the campaign, it needs joining hands by the whole community and especially the participation of families of children of the age from one to fourteen. The Vice President said.
Mrs. Doan stressed that the Ministry of Health should coordinate well with other sectors and local governments to implement the campaign as scheduled. The Ministry should supply enough vaccine and medical equipment as well as training medical workers in order to ensure safety of the immunization campaign. Parents should take their children to medical clinics for vaccination.
The World Health Organization representative said that from September, 2014, 175 nations and territories including Vietnam reported measles outbreaks.
The Prime Minister has approved the national targeting medical program for the period 2012-2015 which include adding vaccine Measles and Rubella into the Expanded Immunization Program to eliminate the two diseases forever. Along with adding the vaccines against Measles and Rubella, the free immunization campaign has been launched aiming to inject vaccine to 23 million children nationwide.
The campaign is hoped to reduce infection cases of measles and rubella in the community to reduce burden.
So far the Ministry has trained medical workers of 63 cities and provinces. Medical workers have administered injection of vaccine to over 458,000 children without serious side-effect after vaccination.
At the launching ceremony, the TH True Milk also gave one million milk packs to the Ministry to support needy children in distant and disadvantaged districts.