Ho Chi Minh City residents continue to complain that new health insurance regulations, which took effect January 1, are not clear and that new treatment fees are too high.
Healthcare staffs, meanwhile, have been run off their feet trying to explain the new insurance policies, which has led to long line-ups and wait times for patients.
A group of elderly women at HCMC's Cho Ray hospital complains they are weary of the long lines and treatment delays at the facility.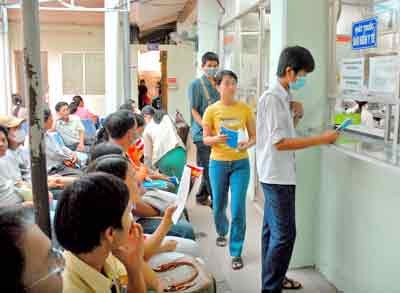 Insurance card holders wait to take drugs at the People's Hospital 115 ( Photo: SGGP)
Ms. N.T.H from the southern province of Tay Ninh said she spent half a day waiting to see a doctor, but was told to go back to her hometown for further examination because of a backlog of patients.
She had originally wanted to receive treatment near her home anyway, but doctors in N.T.H.'s local district were incapable of treating her illness so she was forced to visit a major city hospital, she said.
Confusion over the new policies has plagued the city's Tumor Hospital in Binh Thanh District. Despite efforts to reduce waiting times to see doctors, including hiring more receptionists to explain the new regulations, frustrated patients crowd every corner of the hospital.
An unrelenting flurry of questions over insurance cardholders' new policies and rights has also slowed down operations at the Trauma and Orthopedics Hospital in District 5.
Staffs have been working flat out to deal with hundreds of patients filing through a 10-square-meter room while handling stacks of documents. Receptionists complain that despite several explanations, many patients still don't understand the new regulations.
In some cases, the receptionists themselves were confused about how the policies applied to certain situations.
For instance, patient Le Cao Tien from District 5 came to the Phuoc An General Clinic after he broke his finger in a traffic accident. The clinic, however, decided to transfer him to the Trauma and Orthopedics Hospital where he was asked to pay VND4 million up front.
He objected to the fee, saying that as insurance holder, he was exempt from having to pay. But Nguyen Thi Thu Lieu from the Trauma and Orthopedics Hospital said that according to the new regulations, Mr. Tien would first have to submit a report from the traffic police documenting his accident and outlining whether or not he was at fault.
Mr. Tien would therefore have to pay the treatment charge up front and would be reimbursed later by his insurance company if it was determined the accident was not his fault.
The new regulations also stipulate that patients must pay between 5 and 70 percent of treatment costs, which has caused poor patients much anxiety. Those who suffer chronic ailments, such as kidney disease, are also upset by the new guidelines as they will now have to pay fees on a regular basis.
N.V.Phi, whose wife has suffered chronic kidney disease for the past decade, said his wife had to go without her medication when the new regulations took effect as they had no money to pay for it. They are homeless and subsist on free meals provided by charity groups as they were forced to sell their house to pay for the woman's treatment.
Many other patients nationwide have also been forced to stop life-saving treatment for chronic diseases and cancer because their drugs are not covered under the new insurance policies.
At a recent meeting, Nguyen Van Chau from the HCMC Department of Health raised concern about such patients. Deputy head of the Tumor Hospital Pham Xuan Dung, meanwhile, said the new rules are also unfair to children under six as some of them with cancer must stay for long periods in the hospital and their families can't afford it.
Le Hoang Minh, director of the Tumor Hospital, said; "Being a doctor, I can't let my patients die because of financial inability."
The Tumor Hospital has supported some poor patients with money from a program called the Golden Heart fund; however, the fund's resources are limited.