Mr. Cao Minh Quang, Vice Minister of the Ministry of Health (MoH) signed a decision yesterday to withdraw the registration numbers of the unsafe Fuenzalida rabies vaccine production. It includes freeze-dried rabies vaccine (the 0.1ml, 0.2ml and 0.9ml doses produced by Vaccine and Biomedical Product Company No. 1) and those of Vaccine and Biomedical Product Company No.2.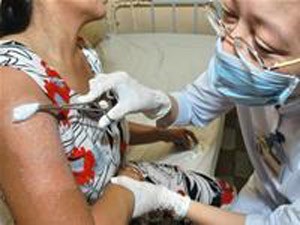 A victim of Fuenzalida vaccination is treated
The MoH also required the two companies to stop the production of the Fuenzaliada rabies vaccine and report to the MoH about the discard plan of the existing Fuenzalida vaccine in stock.

Previously, the National Institute for Hygiene and Epidemiology had proposed replacing the existing Fuenzalida vaccine with Verorab vaccine.

Due to safety reasons, the use of Fuenzalida vaccine has been discouraged by the WHO since 1996. Recent statistics have reported negative effects on 8 of 400,000 people vaccinated with Fuenzalida including encephalitis, paralysis, and others. Some have been paralyzed to such extent that they have lost the ability to work.