For the first time on a cancer patient in Viet Nam, doctors at Hue Medical College in the central region are using a gamma knife to treat a 48-year-old man with metastatic liver cancer.
The new treatment for Bui Nghia, who has a 13cm tumor, is scheduled to last 20 days.

On Wednesday, day one of the treatment, the procedure was observed by Health Minister Tran Thi Trung Chien.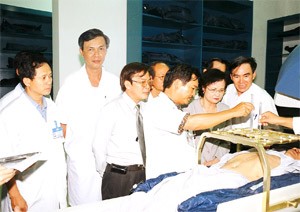 Health Minister Mrs. Tran Thi Trung Chien watches the procedure (Photo: N.Dang)
The advantages of using a gamma knife are that there is no bleeding or subsequent scar tissue, no post-op infection, and a low chance of complications.
It is used for treating malignant and benign tumors in the skull, neck, breast and belly as well as the lung, liver and pancreas.
The first time a gamma knife was used for skull surgery in Viet Nam was at the end of October 2005, when the same Hue medical school used a device supplied through an arrangement with a hospital in China's Guangxi province.