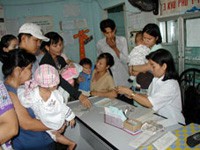 Children are vaccinated at a hospital in Dongnai Province
After some children were hospitalized after being vaccinated with vaccine Priorix of GlaxoSmithKline Company, Sai Gon Giai Phong reporter interviewed doctor Nguyen Thi Tuong Vi, manager of Vaccine section of GlaxoSmithKline Vietnam representative office.
SGGP Reporter: Could you please explain how vaccine Priorix of GlaxoSmithKline is preserved and distributed in Viet Nam?
Ms Nguyen Thi Tuong Vi: Priorix is one of 15 vaccines used in 168 countries, Priorix must meet international quality standards.
In the producing, packaging and delivering processes (from Belgium plan to distributors' storages), the vaccine is always strictly kept in the temperature from 2 to 8 degree Celsius.
Even importers and distributors of Priorix in Viet Nam including Sapharco, Zuelling Pharma and short -term distributor Hoang Duc Company have cold storages meeting standards; all their storages are often inspected strictly.
In the health centers or hospitals, the professional units in national vaccination system, GlaxoSmithKline can not control the vaccine preservation, vaccination techniques, injection needle sterilization and other related issues.
SGGP Reporter: How does GlaxoSmithKline respond to the accident from the producer's responsibility although the reason has not been concluded yet?
Ms. Nguyen Thi Tuong Vi: This case is very rare. The accident is very serious and happens with 6 children at the same time. So the accident must be considered and analyzed immediately, comprehensively and carefully.
GlaxoSmithKline is keeping track very closely of the situation and tries its best to cooperate with doctors on rescuing the children. Medical and vaccine safety specialists are going to Viet Nam on May 12 to work with Vietnamese specialists to identify the cause of the accident.