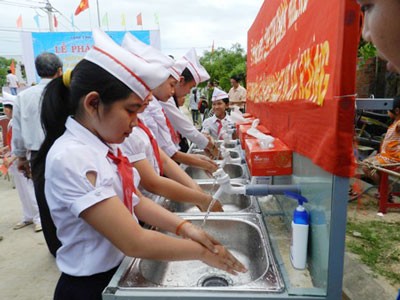 Washing hands with soap prevents diseases (Photo: VTO)
The Ministry of Health and the United Nations Children's Fund (UNICEF) in partnership with Unilever Vietnam on October 20 held a meeting in Hanoi in response to Global Handwashing Day.
Around 2,000 students in Hanoi and a team named 'Clean Hands' participated in the event. This year's theme is 'For a Healthy Vietnam' and is aimed to carry the message of using soap to wash hands to residents in 1,600 communes in 18 provinces, contributing to improving personal hygiene and raising community health conditions.
From October 2013 to May 2014, teams of 'Clean Hands' workers will popularize and inform of best habits of washing hands with soap among 1.8 million residents across the country.