With nearly 700 businesses and distribution companies and over 4,000 drugstores, pharmaceutical market in Ho Chi Minh City has shortcomings such as rampant low quality drugs or without clear indications of origins.
The government should arrange the distribution network by developing GPP (Good Pharmacy Practice) drugstores and created wholesale distribution centers in HCMC in particular and the country in general.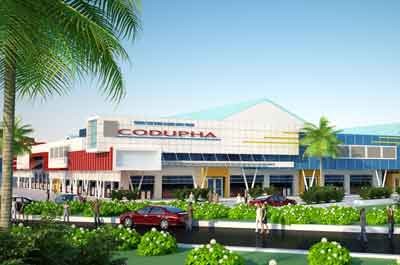 Codupha center, responsible for distributing drug in the South Vietnam, is going to operate (Photo: SGGP)
The Ministry of Health (MOH) initiated the GPP construction plan that all hospital pharmacies must meet GPP standards and all pharmacies in the country must satisfy the standard.
GPP drugstores have created secure feeling for customers as it provides clear indications of medications with proper cost, help customers understand the medicine prescription and use medicines safely. This high-grade pharmacy model aims at getting rid of the current complex drug trading and distribution system to bring practical benefits to patients.
Sapharco have registered to set up the GPP-standard chains for three years. In its development plan, the company's manager director Le Minh Tri said around 200 drugstores are going to be constructed per year and at least 1,000 shops will be built in the country by 2015.
Already 15 pharmaceutical companies based in Hanoi, HCMC, Can Tho, and Da Nang, including My Chau, V-Phano, Saphaco, and Eco have registered to set up the GPP-standard chains.  GPP-standardized drugstores must meet following conditions: The owner must have a medicine practicing certificate and the displaying area must be at least 10 square meters; drug preservation requirements must satisfy specifications written in instruction leaflets; storage chamber temperature must be kept at 30 degrees Celsius or lower and humidity must not exceed 75 percent.
Pham Khanh Phong Lan, deputy head of the HCMC Department of Health, said the city has its own policies to encourage drugstores to adopt GPP standards as these drugstores have contributed to stabilize the chaotic market. Therefore they are considered long-term strategy in controlling pharmaceutical retail market.
While GPP-standardized drugstores are hoped to invaluable tool to reorganize retail market, wholesale market is a headache for relevant agencies. With nearly 700 distribution companies, each has its own separate network.
Thus enterprises colluded with others to push up prices or many pharmaceutical firms have mushroomed to consume low quality or unclear origin medications. In addition these fake companies sold and bought drugs to hike prices many times and patients suffered at last. For instance, company A imported a lot with CIF (Cost plus insurance and freight) prices at US$1 million but it sells to company B to get profit and company B continue to sell to companies C, D. drug prices will be 10 percent higher for each sale.
To resolve the problem, MOH has worked out a pharmaceutical distribution network plan. Under the plan, Mediplantex National Pharmaceutical Joint Stock Company and the National Pharmaceutical No.2 (Codupha) have been assigned to build distribution centers in the North and the South Vietnam respectively.
Codupha constructed a 11,000 meter squared center at 334 To Hien Thanh Street, district 10 in July. Many enterprises have registered to be its sub-companies. The center is a hopefully useful tool of the government in controlling the market.