The Ministry of Health has ordered provincial health authorities to closely monitor traditional Chinese medicine clinics where Chinese nationals are employed, Pham Vu Khanh, head of the Traditional Medicine Department, said November 8.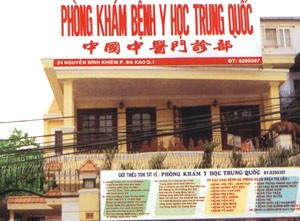 A traditional Chinese medicine clinic at an unidentified location with a board in front with the list of ailments the clinic purports to cure. The Government has begun to crack down on dubious practices by such clinics.
Health departments around the country have also been asked to monitor advertisements, medicine prices, and treatment at these clinics as well as issue of licenses for them, and their legal documents.
 
Many traditional Chinese medicine clinics operate in Hanoi, Ho Chi Minh City, and major provinces and often make claims in advertisements that they can cure many irremediable diseases.
 
They also reportedly sell medicines of unclear origins at very high prices and have Chinese nationals working there with false qualifications
 
There are 64 Chinese doctors known to authorities to be practicing at 54 clinics around the country. In Hanoi alone, there are 23.