As the avian flu may spread to districts nationwide, threatening the country's poultry flocks and human health, Deputy Prime Minister Nguyen Sinh Hung held an online meeting February 26 with 15 provincial and municipal leaders over preventative steps to halt the spread of the disease.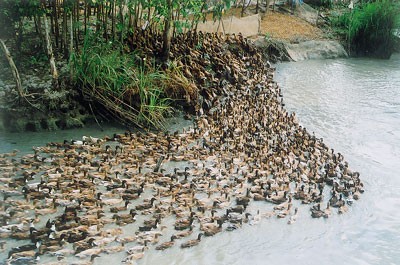 Free range ducks are a threat to spreading bird flu
Bird flu, porcine reproductive and respiratory syndrome virus, commonly known as blue ear and foot-and-mouth disease, has broken out in 21 provinces.
To date, animal health workers have destroyed over 50,000 water-fowl in 13 provinces, accounting for 50 percent of the whole poultry destroyed last year.
Three people have been infected with bird flu and killed another in the northern province of Quang Ninh.
The head of the Department of Animal Health, Bui Quang Anh, is also worried about foot-and-mouth, which has been found in ten provinces and of blue ear in three provinces.
Recent outbreaks of bird flu have been blamed on neglect by relevant agencies.
Veterinarians in Ca Mau Province, in the southern tip of Vietnam, said that the proportion of vaccinated animals was 80 percent, with outbreaks occuring among unvaccinated ducks. A total of 50 percent of imported bird flu vaccines in 2008 were unused pointing to a poor vaccination program.
Deputy Finance Minister Pham Sy Danh said that VND51 billion (US$2.9 million) had been spent purchasing vaccines that had not been used last year.
This year, the Ministry is required to spend VND160 billion on vaccines though this is waste if immunizations programs are poorly managed.
Deputy PM Hung stressed that transmission rate of humans in Vietnam is rather high, the country has had 53 fatalities so far.
He added that those in charge of controlling bird flu will be punished if the disease occurs in areas under their jurisdiction. Veterinarian officials will be penalized for failing to spot sick animals.
He also spoke of the need to raise public awareness of bird flu.
In related news, the Mekong delta province of Bac Lieu on February 26 declared two outbreaks of bird flu in Phuoc Long District.
Vets have carried out sterilization of the affected area and isolated poultry in the neighborhood. The province has culled nearly 13,000 birds in total.