The steering board on prevention of human influenza on May 1 held a meeting in Hanoi with relevant agencies to discuss measures the country is taking to cope with the H1N1 epidemic .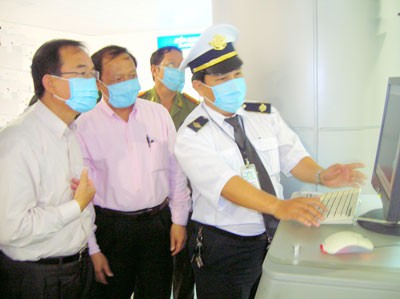 Ho Chi Minh City vice chairman Nguyen Thanh Tai (L) is shown measures to detect swine flu at Tan Son Nhat Airport on May 1 ( Photo: SGGP)
Speaking at the meeting, Health Minister Nguyen Quoc Trieu said the World Health Organization (WHO) has raised the H1N1 flu pandemic alert level to phase 5, and requires countries to be determined in their fight against the disease.
At present, relevant departments are prepared to deal with the epidemic but must be aware of socioeconomic effects. In 2003, in one month fighting SARS, GDP was cut by 0.5 percent and killed six people. The target is to prevent H1N1 flu from entering Vietnam.
Relevant agencies must strengthen supervision of travelers' health conditions at border crossings and airports, especially those come from affected nations.
Mr. Trieu has threatened to penalize officials for failing to spot sick passengers.
He added that medical authorities must enhance inspection, tests, prepare breathing apparatus and isolation rooms. They must also conduct practice runs to size up the situation.
Representatives from the Ministry of Foreign Affairs said that Vietnam is considering visa restrictions for those from infected regions.
The agricultural minister, Cao Duc Phat, advised people not to be so anxious about pig breeding and consumption of pork. People should cook their meat well, be hygienic and not buy sick animals.
The steering board on prevention of human influenza on May 1 convened a meeting with Ho Chi Minh City People's Committee.
An official said that from April 26 to May 1, the city's international medical quarantine center had conducted tests on 19,288 passengers at Tan Son Nhat International Airport, including 128 people from affected nations. No cases were discovered.
In addition to setting up a steering board to follow the epidemic and mobilize medical teams, the city has prepared two isolated wards in districts 12 and Phu Nhuan.
HCMC's deputy Director of agriculture and rural development, Nguyen Phuoc Trung, said that all pigs in the city have been vaccinated and tested since the news about the current flu outbreak came out.

Mr. Trung and Ho Chi Minh City vice chairman Nguyen Thanh Tai also proposed the media to broadcast the dangers of H1N1 flu without causing panic.
On the same day, at a meeting between city leaders and 24 district administrators, Mr. Tai required them to set up steering boards and implement proactive measures, as well as well cooperate with relevant agencies to prepare for worst case scenarios.
Vietnam has changed the name of the current flu disease into H1N1 flu after WHO experts confirmed the virus was apparently born when human and avian flu viruses infected pigs and became mixed.