In September 2005, the leaders of Committee for Population and Family Planning said the issue of treatment card to children is going to finish.
Until the end of December, 2005, however, Dr Ha Manh Tuan, Deputy Director of Pediatrics Hospital I, reported only one-third of children has the card. It is worse at Pediatrics Hospital II, where 40 per cent of children under six whose parents are migrants.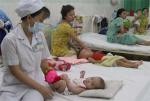 Nurses are taking care of children
Therefore, the parents have to go back and forth to meet the bureaucrat requirements. However, hospital staffs support them by accepting late supplementary papers.


Dentists are examinning teeth
It is noticeable that after press and the public voice their opinion about "free treatment in office hours only", scores of hospitals and health centers have worked overtimes. They work even after 5pm, Saturday and Sunday at such centers as Hoc Mon, Cu Chi, Binh Chanh, Binh Thanh. One special thing is that Pediatrics Hospital I did that although it was overloaded with patients.

Up to now, the procedure is not perfect but Ho Chi Minh Hospitals carried out the policy quite well. Such neighboring provinces as Long An, Tien Giang, Vinh Long, Ba Ria-Vung Tau have had contracts with major hospitals in Ho Chi Minh to accept children under six from these provinces. It is one of the tasks of the city's Health branch in supporting health centers of Southern provinces.