On August 4-5, the East Meets West Foundation, Quang Ngai Province, and the Ministry of  Foreign Affairs participated in two groundbreaking ceremonies for the refurbishment of the physiotherapy and rehabilitation wards of the Duc Pho and Son Tinh District Hospitals.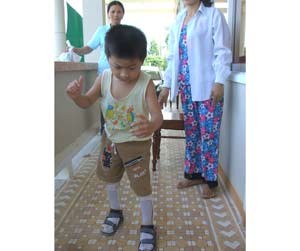 The new physiotherapy and rehabilitation ward will provide thousands of patients with better access to medical services ( Photo: T.Binh)
The foundation's Support Network for People with Disabilities (SN-PWD) program, which is supported by the Ford Foundation and other donors, has renovated rehabilitation centers in the northern province of Thai Binh.
"We are very happy with the progress on these new facilities for people with disabilities," said Ms. Dinh Thi Loan, vice chairwoman of the Quang Ngai People's Committee. "The renovation project is one of many great efforts that the foundation and Quang Ngai Province are making for disadvantaged people."
"When completed, the new buildings will provide thousands of patients with better access to medical services and improve the working environment for local health workers."
The network was launched in Quang Ngai Province in January 2007, and then expanded to Thai Binh in September of that year.  It is an initiative developed by the foundation to help create channels of medical, educational and job training services for more than 22,000 people with disabilities in areas heavily affected by dioxin in Viet Nam.
In both provinces, the foundation works in close cooperation with local partners such as the Quang Ngai Department of Health or the Red Cross Chapter in Thai Binh to improve the quality of life for people with disabilities (PWDs) by assisting as many disabled patients as possible with direct support and by improving the long-term capacity of the health care system to assist disabled patients.
"Today represents a great achievement for the SN-PWD program in Quang Ngai, and in Viet Nam in general," said Mr. John Anner, executive director of the foundation. "The new rehabilitation wards will receive modern equipment and supplies together with technical and methodological training provided to the hospital staff, which will significantly increase the quality of health-care services and expand program capacity to reach a larger group of PWDs in Viet Nam so that they can live healthier, more prosperous lives."
In the first half of 2008, SN-PWD provided corrective surgery to more than 200 patients, delivered physiotherapy and prosthetics to more than 800 patients, organized vocational training and job placement for 87 beneficiaries and trained more than 500 health workers in physiotherapy and rehabilitation.
In addition, 300 children with disabilities will receive educational scholarships by the end of August. The program in Thai Binh will assist local authorities and small and medium enterprises with disabled employees. Six enterprises in the province have received a total of US$80,000 in loans.