Cases of A/H1N1 flu seem to be declining in Vietnam and no large outbreaks of the disease have been recorded in December, said a health official on December 30.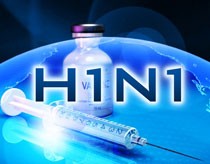 Despite a decrease in A/H1N1 flu cases in Vietnam over the past two months, health officials say it is important to maintain public awareness campaigns
The swine flu has not appeared to thrive this winter season as the Ministry of Health earlier predicted, said Nguyen Huy Nga, head of the Health Ministry's Preventive Medicine and Environment Department at a recent meeting of the National Steering Committee on Human Flu Prevention.
Since the first A/H1N1 case was detected in Vietnam on May 31, 2009, health authorities have reported 11,104 more infections, including 53 deaths, with the latest fatality being a 64-year-old man in the northern province of Hung Yen on December 25.
Dr. Nguyen Tran Hien, head of the National Institute of Hygiene and Epidemiology, said caution should be maintained, however, because A/H1N1 is a new epidemic that requires continued monitoring and prevention efforts. 
Despite a decrease in the number of new cases over the past two months, it is difficult to predict future developments of A/H1N1 flu as new pandemics usually last two years, said Dr. Hien.
Around 90 percent of those who are checked for A/H1N1, test positive for the virus, according to the National Steering Committee on Human Flu Prevention.
The majority of the 53 people who died in Vietnam of A/H1N1 were considered high-risk patients including pregnant women, people with chronic diseases, children under three, and those who sought medical treatment late in their illness.
According to the Director of the Ministry of Health's Examination and Treatment Management Department, Ly Ngoc Khue, it is important to continue public awareness campaigns about the disease because many with A/H1N1 symptoms are seeking medical treatment too late.