President Truong Tan Sang awarded the Independence Medal-Third Class for the second time to Bach Mai General Hospital for its contribution to people's healthcare and protection yesterday in Ha Noi.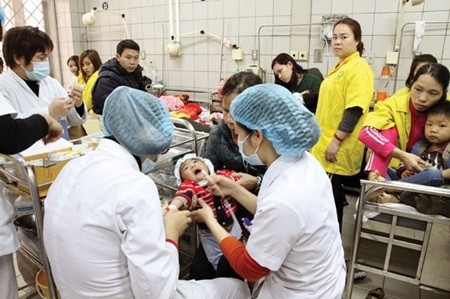 Doctors examine pediatrics patients at the Bach mai General Hospital, Ha Noi. President Truong Tan Sang yesterday awarded the Independence Medal-Third Class for the second time to Bach Mai General Hospital for its contribution to people's healthcare and protection. — VNA/VNS
Speaking at a ceremony to mark the hospital's 105th anniversary, President Sang praised the hospital's achievements and great contributions to the country's development over the past century.
"Protecting people's health, ensuring human resources for the cause of building and protecting the fatherland, improving the Vietnamese people's height and longevity would be top priorities of the party and the government," Sang said.
"Bach Mai Hospital and the health sector should continue to expand the healthcare system and improve the quality of human resources, examination and treatment and the preventive medicine system from the central to local levels to prevent the occurrence of epidemics," Sang said.
He said Bach Mai Hospital should continue to speed up research and application of advanced medical technologies, and improve doctors' skills to keep pace with doctors in the region and across the world.
Sang also presented the Labour Hero title to Hospital Director, Prof. Nguyen Quoc Anh and former Director of the Viet Nam Heart Institute, Prof. Nguyen Lan Viet.
Established in 1911, Bach Mai is the country's largest hospital with 2,400 beds, and provides examination and treatment to about 1.4 million out-patients and 12,800 in-patients each year.
More than 500 new medical techniques have been applied in the examination and treatment processes at the hospital over the last five years. The hospital has performed 62 kidney, 11 bone marrow and 31 stem-cell transplants since the first kidney transplant performed in 2005, a press release said.
Modern hospital
In another development, the Can Tho City Hospital for Tuberculosis and Lung Diseases officially began operation yesterday, being the first and most modern one of its kind in the Mekong River Delta.
The facility's construction began in September 2010 in an area of 5,600sq.m with a total investment of VND215.3 billion (about VND214,546 million).
The hospital consists of one basement and seven floors, with 200 beds, meeting the demand of examining and treating tuberculosis and lung diseases for people in the city and other provinces in the region.
It replaces the old 50-bed one that was built more than 100 years ago and downgraded, contributing to a better health system in the city, Bui Thi Le Phi, director of Can Tho Health Department, said.
Although Viet Nam has made large strides in controlling, discovering and treating tuberculosis, it still ranks 12th out of 22 countries with the highest rate of tuberculosis, and ranks 14th of 27 nations which have the highest rate of Multi-Drug Resistant Tuberculosis (MDR-TB) in the world.
Patient safety
During a review meeting yesterday in HCM City, the city's Department of Health asked public and private health facilities to take steps to ensure patient safety and reduce medical errors by following and completing protocols that were posted on the department's website last year.
Tang Chi Thuong, the department's deputy head, told health staff to strengthen control of the protocols as well as prescriptions for medicine.
The over-use of laboratory tests and unnecessary treatments that need high-tech equipment should also be restricted, he said.
He also asked staff to ensure a sufficient supply of medicine and other materials needed for treatment.
This year, the department will continue to offer alternative ways to give health exams, according to the official.
Several hospitals, for example, provide healthcare services at patients' homes, and offer services on Saturday. They will also continue to offer extra hours beyond official working hours.
Satellite hospitals and clinics have been established, as well as family health examination divisions, at 20 out of 23 district hospitals and 136 out of 139 ward health centres.
In addition, high-tech treatments matching the capacity and condition of the city's health sector will continue to be given priority.