An outbreak of bird flu occurred in a flock of poultry in the central province of Ha Tinh, reported the Department of Husbandry and Animal Health yesterday.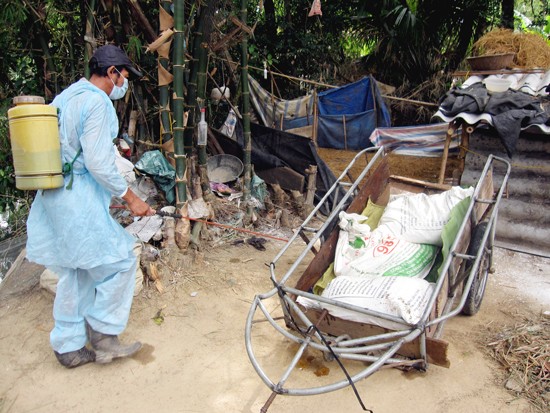 Vet spray disinfectant in the infect area (Photo: SGGP)
As per the report, 1,698 poultry including 1,650 ducks, 47 chicken and one swan of a local farm in  Ha Tinh Town have symptoms of bird flu. The disease killed 50 ducks. Test results showed that the animal are positive for the bird flu virus.
 
Accordingly, the local animal health agency and the administration destroyed all the infected water fowl and sprayed disinfectant to curb spreading.

The strain is the same as in other cases found in the Mekong Delta.  the Department of Husbandry and Animal Health said that 794 infected ducks were culled in Can Tho city, 891 chicken were killed in  Hau Giang province.
 
Outbreaks in Ha Tinh and Quang Tri where 200 chicken in District Trieu Phong were destroyed are still in standard 21-day quarantine.
 
Meanwhile Ben Cau District in the southern province of Tay Ninh daclared free from bird flu as there was no fresh outbreak within 21 days.
 
Experts warned that there is a high risk of spreading the disease in Vietnam in the coming time with new strain of bird flu viruses such as A/H7N9, A/H5N2, and A/H5N8 through sales, transportation, consumption of poultry and poultry products without clear origin especially in the North.

Accordingly, local authorities need to take initiative to prevent and tighten monitor as well as issue harsh penalties on illegal poultry import, timely handling of outbreaks, the Ministry of Health said.