Five in 16 cases of acute diarrhea reported in northern province of Hai Duong were tested positive for the virulent vibrio cholera virus, a health official said on April 18.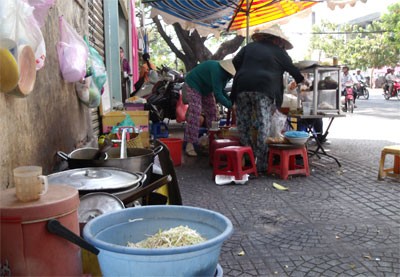 People may contract the virulent vibrio cholera virus from sidewalk food.
Bui Huy Nhanh, director of the province's Preventive Health Department said that all of the sixteen patients live in the same village of Binh Giang district. They are being treated in local hospital and medical clinic
Epidemiologists said they all ate food at the funeral ceremony in a neighbor village.
Medical workers of the district clinic have sprayed chemicals to disinfect the environment and water as well as kept an eye on other 250 participants to the ceremony and investigated the origin of the food used at the funeral.
Five cities and provinces have reported outbreaks of acute diarrhea and cholera, said the Department of Preventive Health, part of the Ministry of Health.
Dr. Nguyen Huy Nga, head of the Department of Preventive Medicine and Environment, warned that the disease was at high risk of spreading because of unpredictable sweltering weather in southern provinces.
"In addition, scorching weather leads to severe shortage of fresh and clean water so residents must use unclean water", he added.
Moreover, food easily turns spoiled in the hot weather, causing people contaminated with the virus