More than half the people who contracted swine flu, or 389 patients, have recovered and been given a clean bill of health, while the rest are in isolation and in stable condition.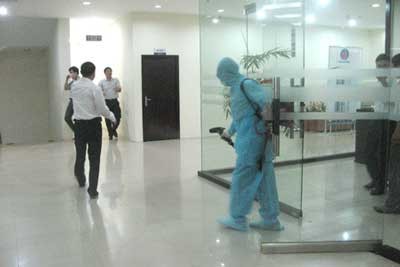 A medical worker sprays disinfectants in the Viglacera building in Hanoi
Sixty cases were reported on July 29, mostly in the southern provinces, taking the total number in Vietnam to 763.
Just like at Viettel Mobile's office earlier, the Department of Health said, one employee at the 18-storied Viglacera building on Lang Hoa Lac Street in Hanoi was infected and health agencies disinfected the person's office.
Dr. Tran Tinh Hien, deputy director of the city's Tropical Diseases Hospital, said people should not go to medical centers for tests if they do not have symptoms like fever, cough, or running nose.
He advised them to keep away from people and stay at home without taking any medication.
Dr. Phan Van Nghiem of the Ho Chi Minh City Department of Health said swine flu outbreaks in schools have been brought under control. Seventeen students of Ngo Thoi Nhiem High School remain isolated at the school in stable condition. No fresh cases have been discovered at other schools like the Royal Melbourne Institute of Technology in District 7 and the University of Economics' District 10 campus.
A PetroVietnam employee who recently returned from abroad has tested positive for the A/H1N1 virus.
The District 1 Preventive Health Center sprayed disinfectants on the fourth and fifth floors of the company's office on Le Duan Street.
All other employees there have been asked to wear face masks as a precaution.