Doctors of the Ho Chi Minh City's Children Hospital I were successful for the first time in saving a young hand, foot and mouth patient who had stopped breathing on arrival, Dr. Truong Huu Khanh, head of the Infection Department of the hospital.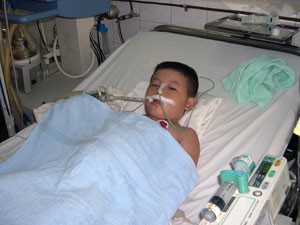 The young hand-foot-and mouth patient is treated at the Ho Chi Minh City's Children Hospital I
The seven-year-old boy in Binh Tan District was hospitalized in critical condition from the disease with symptoms including high fever, ulcers in his mouth, blisters, and difficulty breathing.

Doctors decided to give him respiratory assistance and injected him with Milrinone.
After two days of intensive treatment, he recovered and could move his hand to touch his relatives.

The development of hand-foot-and mouth disease has been unpredictable recently.