A potentially fatal strain of hand, foot and mouth disease is hospitalizing dozens of Vietnamese children under the age of five every day as its grip on the country tightens.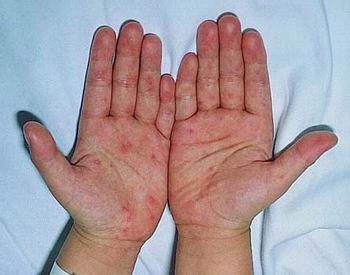 Symptoms of the disease are ulcers in the mouth, blisters on the palms and the soles of the feet
The situation is threatening to become as grave as in China, where the number of cases has nearly reached 16,000 and where 27 kids have died from the viral disease, the last death occurring on Tuesday in the central province of Hunan.
At the Tropical Diseases Hospital in Ho Chi Minh City, 21 of the 60 children treated there since the start of January developed neurological complications. One of the young patients died in February.
The hospital's Dr. Nguyen Van Chau says they managed to save an eighteen-month-old child from Vinh Long in the Mekong Delta who had ulcers in her mouth, blisters on the palms of her hands and the soles of her feet, and a racing pulse of 170-190 beats per minute.
The other children's hospitals are also admitting more children with hand, foot and mouth than last month and April 2007.
Around 3,000 cases of the disease have been reported since the year began, according to the Health Ministry, mostly from Ho Chi Minh City, Dong Nai to the city's east, and Kien Giang, Dong Thap, Vinh Long and Ben Tre in the Mekong Delta. Ten of the infected children are dead.
There have also been 66 reported cases in Da Nang, Khanh Hoa and Binh Thuan on the central coast.
Dr. Truong Huu Khanh of Children's Hospital No. 1 in Ho Chi Minh City says the number of children with hand, foot and mouth has doubled since March. It is admitting 30 to 35 infants with the disease every day.
What worries Dr. Khanh most is that more than 10 per cent of the young patients will develop dangerous neurological complications.
Dr. Tran Thi Viet of Children's Hospital No. 2 notes that the disease arrived much earlier this year than in the past and that it usually peaks in July or November.

Pediatricians advise parents to take their children to hospital as soon as they observe anything wrong as hand, foot and mouth develops so rapidly that it can kill in 24 hours.
There is no vaccine against the disease so parents should pay careful attention to personal and food hygiene.