The death on June 21 of a 16-month-old infant from hand-foot-and-mouth disease was the third such case in two months at Children's Hospital II in Ho Chi Minh City.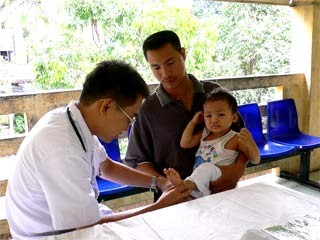 A doctor is examining a child patient at Children's Hospital II
The hospital is treating several more infants in a critical condition from the disease and the doctors there are surprised by the unexpected development.
Remembering the infant who just died, Dr. Tran Thi Viet, who heads the hospital's Department of Infectious Diseases, said the boy had been hospitalized with symptoms including high fever, difficult breathing and blisters on the palms of his hands and the soles of his feet.
Dr. Viet added that, after eight hours of treatment, the doctors' efforts had been futile.
Hand-foot-and-mouth is responsible for the second highest number of infant deaths at the hospital, behind only dengue fever.
Currently, 25 children including three in critical condition are being treated in Dr. Viet's ward.
The most critical is a twenty-month-old girl with ulcers in her mouth and blisters on the palms of her hands and the soles of her feet. She also has a rapid pulse.
The number of hand-foot-and-mouth patients usually soars in the first and third quarter of the year, according to Dr. Viet, and it's unusual to see so many in June.
In the past three years, the disease has shown no signs of easing up and the number of children contracting it has continued to rise.
Since the beginning of the year, around 600 cases of hand-foot-and-mouth disease have been reported in Children's Hospitals I and II.
Most of the patients suffer brain complications and are in grave danger because the disease develops so fast.
To reduce the death rate, doctors are advising parents to seek medical help if their child has a fever and especially if they notice blisters on the hands and feet and ulcers in the mouth.
Hand-foot-and-mouth disease is caused by the Coxsackie and Enterro 71 virus, which lurk in toys and food. Parents are hence advised to pay special attention to their children's meals.