After a hiatus of a few months, the number of hand-foot-mouth disease cases have again increased this past week, said the Department of Preventive Medicine on May 1.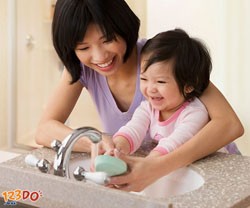 Washing hands is an affective way to prevent spread of hand-foot-mouth disease
The number of infected patients leaped to more than 3,100 in just a week, an increase by 50 per cent compared to the first weeks of the year or during the months of September and October in 2011 when the disease was at its peak.
The country has so far recorded more than 35,000 cases of hand-foot-mouth infection from 63 provinces and cities, with 18 people so far having succumbed to the disease.
According to the Department of Preventive Medicine, this time round the disease will develop into a complicated strain, spreading more rapidly during the summer months. As warm weather is conducive to an outbreak of the disease, more than 70 per cent of healthy people will become carriers of the virus as they travel from place to place in the summer months. In addition, people's awareness of the disease is still relatively low.