The Preventive Medicine Department reported yesterday that since the beginning of this year, the country has recorded over 7,300 cases of hand-foot-mouth disease with 26 deaths.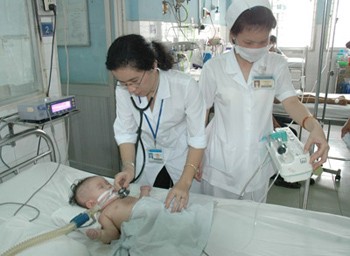 A baby being treated for hand-foot-mouth disease at Children Hospital No.1 in Ho Chi Minh City (Photo: SGGP)
The department added that the number was 40 percent higher than during the same period last year and most of the patients were young children.
There have been over 1,200 cases of hand-foot-mouth disease in 28 provinces and cities around the country in the last one week alone.
All the southern provinces and cities are presently facing an epidemic of the disease, which has already resulted in 24 deaths.
The northern region has recorded 14 cases of hand-foot-mouth disease without any fatalities.