Doctors in Viet Duc Hospital in Hanoi have successfully conducted a microsurgery to reattach a severed leg of a three-year-old child, said Dr. Dao Van Giang from the hospital on September 5.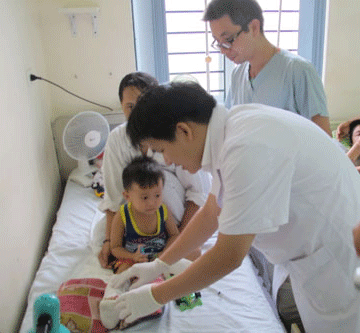 Doctors checking the child's severed foot before discharging him
The patient was three-year-old Nguyen Van Dan from the northern province of Thai Binh. The child's family lives on a boat and they were scared that the little toddler would fall into the river, so they tied his leg onto the boat.
Unfortunately while playing, the string that tied his leg onto the boat got sucked into the engine and severed his right leg.
His family rushed him to Viet Duc Hospital in Hanoi, where doctors successfully reattached his severed right leg.
According to Dr. Giang, the microsurgery was really difficult and quite tricky. As it took a long time for the toddler to reach the hospital from his boat home, the child had lost a lot of blood. Blood vessels of little children are small, about one-fifth compared with that of adults.
However, two weeks after the operation, on September 5, there were positive signs of the leg reattaching to the rest of the body and the little toddler is expected to be discharged from hospital soon.