Doctors at the National Hospital of Pediatrics in Hanoi conducted a highly risky surgery on May 10, to separate conjoined twin baby girls who had congenital problems.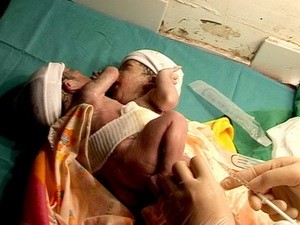 Conjoined twins, Dam Thi Thu A and Dam Thi Thu B, before the separation surgery
Nguyen Thanh Liem, director of National Hospital of Pediatrics, took part in the surgery. The conjoined twins, Dam Thi Thu A and Dam Thi Thu B, were born in the General Hospital in Ha Giang Province, weighing 4.7 kilograms.
Doctors said that the operation must be carried out at the earliest to save the twins, as they had only one anus.
The conjoined twins were born to Hoang Thi Thach, 21, from Bac Me District in Ha Giang Province through a caesarean operation on May 6.
Dang Anh Duong, deputy head of the Intensive Care Unit, said this has been the most complicated case in the last 10 years for him.
The twins were joined at the chest and stomach and X-rays revealed that they had two hearts, two kidneys, but only one sex organ and one liver.
However, during the surgery, doctors discovered they had only one colon and one bladder. The operation team split guts and made a new anus for the twins.
Previously, the hospital had successfully separated two conjoined twins-- Cu-Co and Cuc-An.